Welcome Back & Happy New Year!
We are kicking the year off talking about styles that keep our manes protected!
Protective Styling: What does a protective style mean?
A protective style is any style that keeps the ends of the hair tucked away and minimised manipulation. Protective styling gives the ends of our hair a break from nasty weather conditions. ... When we wear our hair in protective styles, it is less prone to knotting and snagging on clothing or accessories.
Most times, when people think of protective hairstyles, they instantly go to the trending styles; Box Braids, Senegalese Twists, Havana Twists, Butterfly Locks, and so on. All of these styles are highly on-trend and for a good reason! They are 90's inspired and give us that Janet Jackson Poetic Justice vibe, mixed with a millennial flare.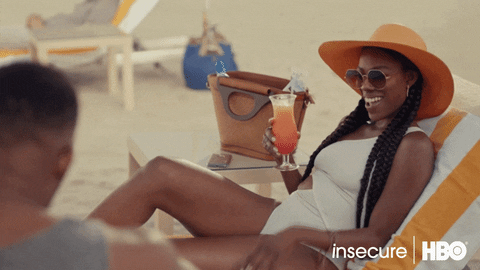 And let's face it, these styles make you feel extra!
While these styles can be a quick and easy way for natural-hair enthusiasts to maintain low-maintenance styles, they can also be tricky if you don't know how to protect your hair while in these styles.
Let me explain!
Even though styles like boxed braids and other hair extension styles pack your hair and ends away, most of the time, these styles are also;
Tight and pull at the scalp

Cause build-up due to excessive gels, greases, and heavy products, which clog pores.

Can cause knotting for specific hair types because of accessive product use.

Can cause hair to dry out because of a lack of moisture to the hair.
These are all factors that many don't consider while choosing these styles. But, there is a solution!
We tend to be passive with our hairstylists because we don't want to offend others, but this is your hair. Your hair growth and health aren't really on them. It's on you.
So here are some tips!
Tip 1:
Ask about hair care alternatives aside from styling products that cake your hair down.
Listen, ladies, I know we want our hair to be slick & laid but why get your hair washed and conditioned just to pile products back in and try and wear it for 3 weeks. You can't be surprised if your hair isn't thriving at that point, right?
Tip 2:
Ask your hairdresser not to twist or braid your hair too tight. If your stylist is already good with not having your hair super tight, you are fine. Your hair may be resilient, but it is not invisible! Loosen up those braids, so you are not literally pulling your hair out, sis!
Tip 3:
Keep your scalp and hair oiled and hydrated even with these styles! Your hair needs water and nutrients to stay flexible and avoid breakage! Some hair types can last longer without rehydration. So be sure to learn your hair! This part is all on you!
Here are some quick Protective Hairstyles that will cause your hair to flourish!
Doing low-maintenance styles on your hair is always an excellent way to see your hair at its best! So here are 3 quick styles on your own hair you can try as an alternative to extensions!
Casual Everyday Styles No Extensions#1: Do your hair and leave it for up to 3 weeks!
Formal Occasion Styles #2: Quick Elegant styles you can leave in!
Fashion Forward Styles#3: Trendy looks you can easily do!
Casual Everyday Styles No Extensions#1: Do your hair and leave it

for

up to 3 weeks!
Flat Twisted & braided crown styles turn your frustrating hair days into days of ease!
Once you place your hair in one of these styles, they can last for weeks, depending on how well you take care of it.
We recommend you moisturize the ends of your hair every 3 days or as needed to keep the hair hydrated. Also, always have your ends tucked away to avoid snagging on clothing, sun exposure, and causing split ends.
Formal Occasion Styles #2: Quick Elegant styles you can leave in!
Who says your mane can't be everything, even elegant!
For these styles, if your hair is not long enough, you can put it in a bun and then wrap a braided hair extension around it to keep it protected and have a beautiful formal look.
These Looks only take minutes to do and only require a touch of hair products!
Ladies, I understand that we want our edges laid but try to go easy on the edge control and use just enough to get the job done.
Fashion Forward Long Wear Styles#3: Trendy looks you can easily do!
We all want to look our best!
Protective styling is fun while your hair is getting the rest it needs to thrive.
So experiment with cornrows!
Even if you think you don't have the head shape for it.
These Trendy Styles can be worn up to 2 weeks with proper care, and you can also mix them up!
Try each one and see which one best suits your style and personality!
Finding a hairstyle that suits you and makes you feel confident is key so that you can rock it every day!
Our goal is to promote overall love and confidence in your own skin. Your glow-up is your self-love and knowing who you are, Sis!
Take time out to learn your hair, and it will love you for it!
We want to thank you for reading this week's beauty blog article! Let us know if you found this information helpful by liking commenting, and sending us a message! Next Blog we are jumping into Deep conditioning hacks for hair growth & Health!
Until Next Time
XOXO,
Virgin Magnolia
#HealthyHairGoals #BermudaNaturals #VMBeautyBlog #VMAllthingsBeauy #BeautyTips